Below is an excerpt from the Arizona Central article. The full article can be found here.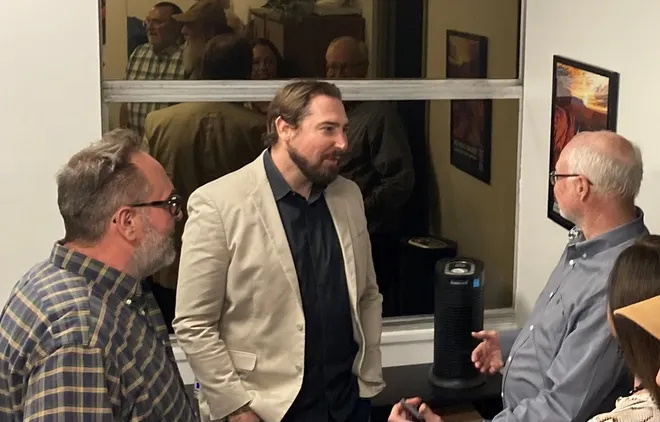 Voters from across Arizona's massive 2nd Congressional District crowded a small office near the famous courthouse square in Prescott to shake hands and take pictures with their new representative in Congress, Rep. Eli Crane.
Crane, R-Ariz., is just months into his first term representing the newly redrawn district, which is shaped a bit like an apostrophe, starting in the low desert south of Phoenix, widening east to the New Mexico border, then north to Utah and curving back west over Flagstaff to the Grand Canyon.
The 150 or so people who visited the Prescott field office showed the diversity of that territory, asking for assistance with a host of issues, from veterans benefits to a stock that was subject to a trading halt.
David Drye and Scott Beck came from the tiny community of Crown King high in the Bradshaw Mountains and 26 miles from paved roads. They are members of the board of the community fire department and were there to thank Crane for sending his chief of staff earlier in the week to tour the area to better understand their public safety issues.
The firehouse doesn't have indoor restrooms, and the department with four full-time firefighters and a handful of volunteers finds itself strapped on busy weekends when visitors come for horseshoe and cornhole contests, or to bounce around the popular four-wheel-drive routes.
"We have to do something," Drye said. "Maricopa is growing and they keep coming."
The board has secured a $1 million grant and helped pass a $1 million bond to help with a new firehouse, but they still need more equipment, and the community needs help with roads and possibly even a presence from law enforcement to help with the crowds.