16th Annual Wine in the Pines
Crown King Realty proudly sponsors Wine in the Pines benefiting CKFD Auxiliary. Join your neighbors for this incredible event! All funds raised support our local CKFD and benefits our community.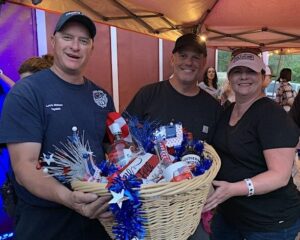 To donate a silent auction item or gift card / basket, etc, please contact Carol Boles 602-717-6363 or Anna Coleman 928-910-9527. They will arrange for pick up in the valley if needed.
Funds raised at this annual event will be put to use in our local CK Community. Tickets and seating are limited.  All ages are welcome. Non-drinking tickets are available.  Click Here to purchase your online tickets.
Thanks for supporting Wine in the Pines!
Hope to see you Saturday, June 10th at the CK Saloon.  5pm-9pm.
Lodging is still available for the weekend!
Bear Creek Cabins
928-899-2031
Cedar Roost
928-632-5564
Crown King Cabins & Suites
928-632-4477
The Bunkhouse
602-349-6113
For more information, check out Lodging at – http://www.visitcrownking.com